Cruising on the Disney Dream
Cruising on the Disney Dream
Disney Dream is the name of a cruise ship that's run by the Disney Cruise Line. It's been in operation since 2011. Guests of this ship can experience cruises to the Bahamas that last for either three or four days. These cruises depart from Port Canaveral in Florida. Building of this cruise ship started in March of 2009. Henry Andersson is the cruise ship captain.
The cruise ship is extremely large, with 14 decks and close to 1,300 staterooms available. It can easily carry upward of 4,000 passengers. This figure also doesn't take into account the 1,458 staff members.
Disney Dream Cruise Ship provides guests with a family-friendly atmosphere that blends activities and convenience. Children can participate in youth clubs that are chock-full of activities for youngsters of all ages. Whether a child is 3 months in age or 17 years old, the youth club has an array of activities suited to him or her. These youth club activities and components include a nursery, teen lounge with video games, oceaneer lab and arcade, to name a few prominent examples.
Adults can enjoy food opportunities of all varieties, from fine dining to much more laid-back, quick meals. The Disney Dream Cruise Ship's available dining establishments run the gamut. Some of them serve cold delights such as ice cream sundaes and smoothies. Others serve All-American classics such as hamburgers, pizza, sandwich wraps and chicken tenders. Some even specialize in gourmet dishes that hail from Northern Italy. Note that some of the more upscale dining establishments on the ship come with dress requirements. If guests don't feel like getting out of their rooms to enjoy meals, they can even opt for round-the-clock room service.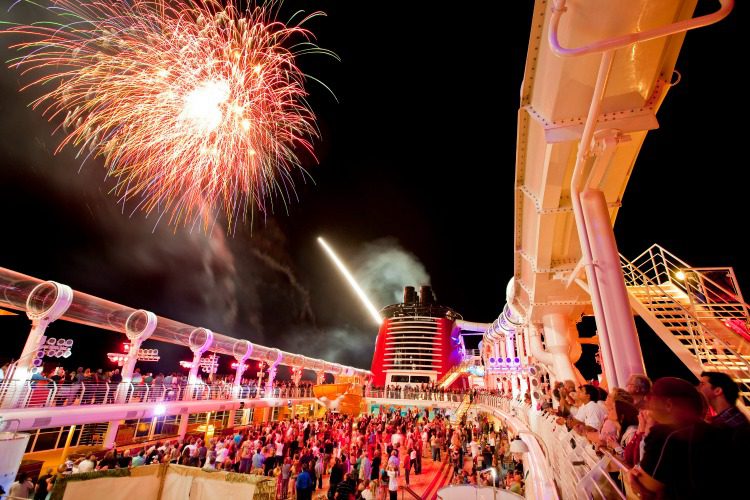 Entertainment is a big priority on these cruise ships. People on the cruise can unwind and have a ball with a variety of lounge and nightclub options. Visitors on the cruise ship have the chance to meet new people, dance and revel in the sounds of energetic and upbeat live music. The cruise features a special section that is exclusively for adults — "The District." The District provides adult guests choices in five nightclubs and lounges.
Families can also cool off and energize themselves on hot days by spending time in and around the ship's various swimming pools. The ship's Deck 11 has three swimming pools that cater to people of all different ages. One pool is solely for adults. The other is solely for families. Last but not least, one is just for the kiddies.
The ship's staterooms are spacious and modern in design and amenities. Guests of the cruise can choose between staterooms of all sizes. Many of the staterooms are suitable for groups of a maximum of five individuals, for example. Many of them are even equipped with verandas that provide scenic sea views. As far as style goes, the rooms have sophisticated Art Deco designs that harken back to the retro vibes of the twenties and thirties. Split restrooms are a common component of the ship's staterooms.
The overall ambiance of the ship is fun and vibrant. From eye-catching paintings and intricate murals to woodwork and statues, there's no shortage of decorative elements for guests to behold on this cruise ship. The lobby atrium is the site of an Admiral Donald bronze statue that helps contribute to the cruise ship's festive and merry feel.
CHECK OUT OUR VIDEO ON THE DISNEY DREAM