About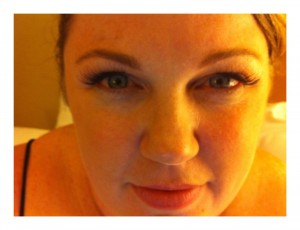 Stacie Haight Connerty, a self professed tech geek, foodie and social media junkie lives in Atlanta, Georgia with her husband of over 15 years. She is the mother of three children ages 13, 11 and 9 – one boy & two girls (more about her family, her daughter's heart condition & giving back in the community).
Divine Lifestyle is about living the good life and this blog shares our life. Projects we are interested in. The food we cook. The technology we covet. Things we find fascinating like beauty & fashion & diy. Things that are so perfectly woven into our lives like travel. Come share the good life with us.
"I am currently obsessed with amazing shoes, creating the biggest list of DIY projects for our home and researching some amazing family travel packages (the kind where we have to do nothing but show up). We are having fun with chalk paint and refinishing furniture. We just purchased the homes of our dreams although the "dreams" part is our end goal because this house needs a lot of work. So we have committed ourselves to doing as much of the work as possible. My project list will be endless for quite a while and I couldn't be more excited about that. Even better is that my husband feels the same way. It has been a long time since I have thrown myself into a passion. This one will definitely be a passion. "
Stacie is a nationally published writer/author/editor for a variety of magazines, blogs and online publications. Stacie has an MBA in marketing and consults with several companies on a regular basis as a Social Media Consultant. Stacie is also the Travel Expert at About.com Vacation Rentals and Shares.
Stacie is the founder of Georgia Social Media Moms – a group of over 385 influencers (women & men) in Georgia, Social Media Chicks, Social Media Chicks, a toy blog with her 12 year old nephew named The Toy Bloggers and a family travel blog called The Family Travelers. Stacie is also the co-founder of the now defunct Product Review Place (a site where over 4500 PR professionals & reviewers could connect).
Stacie most recently participated in an extensive campaign with Microsoft to coordinate with the launch of the Nokia Lumia phone. She was featured in several web commercials and created content around the phone.

Read more about why she started this blog.

BUILDING YOUR BRAND

Stacie can help you and your company spread the word about your brand. If you would like her to represent you, your business or company with a product review or a conference sponsorship please contact her at stacieconnerty (at) gmail (dot) com
BRAND RELATIONSHIPS
Best Buy Ambassador
Invisalign
Microsoft Blogger Program
Netflix Ambassador
Rite Aid Insider
Fandango Ambassador
Sprint Ambassador
Comcast Ambassador
Skinny Cow Ambassador
Coca-Cola 5by20, Project Last Mile and EKOCenter
SPEAKING ENGAGEMENTS

Mom 2.0 2015
Mom 2.0 2014
Type-A Parent 2014
Type-A Parent 2013
Bulldog Reporter 2013: Pitching Influential Parenting Blogs: Top Mom and Dad Bloggers Tell PR What's Trending and How to Reach Influencers
Spark & Hustle Atlanta 2012
Reviewers Retreat 2012
National Restaurant Association (NRA) Show 2012
Blissdom 2012 Community Leader
Blogher'11 – Perfecting Your Product Reviews
Type-A Parent Conference Speaker- Session: Review Bloggers (Tribes Track)
Atlanta Bloggy Bootcamp 2011 Speaker
CES 2010 – Kodak K-Zone Speaker – How Momtrepreneurs and Stay At Home Moms are Building Successful Businesses
PRESS, HONORS & AWARDS

Circle of Moms Most Influential Southern Blogger
HERoic: 10 Mommy Bloggers Who Rule Social Media
Cision's Top 10 Most Inflluential Mommy Bloggers
Digital Mom of the Week
140 Must Follow Moms on Twitter
Mommy bloggers most influential Father's Day Tweeters
Atlanta Moms Like Me Media Moms listing – with other prominent Atlanta figures
Guest Post on MySears Community Blog – A Mom's Perspective on Kitchen Appliances
Babble Top Twitter Moms 2011 (#1) – As nominated and voted on by my peers
Babble Top Twitter Moms 2010 (#3) – As nominated and voted on by my peers
Classroom Mom Deck: A School Volunteer's Survival Kit Featured Contributor – Publishing Credit
FAM TRIPS

East Africa Coca-Cola FAM Trip for 5 by 20, EKOCenter and Project Last Mile
How We Vegas Event
Marriott Vacation Club West Palm Beach FAM Trip
Myrtle Beach FAM Trip
Kissimmee #RockYourVacation Trip
Disney Media Cruise – Disney Magic
Disney Seven Dwarfs Mine Train Event
Wilderness at the Smokies FAM Event
Provincetown, Massachusetts FAM Trip
Freeport, Maine FAM Trip
Biltmore – Asheville, North Carolina Blogger Trip
Waynesville, North Carolina FAM Trip
Orlando Moms Trip sponsored by Orlando / Orange County Convention & Visitors Bureau
Disney Media Cruise – Aboard the Disney Wonder
Great Wolf Lodge