What's your big dream for 2017?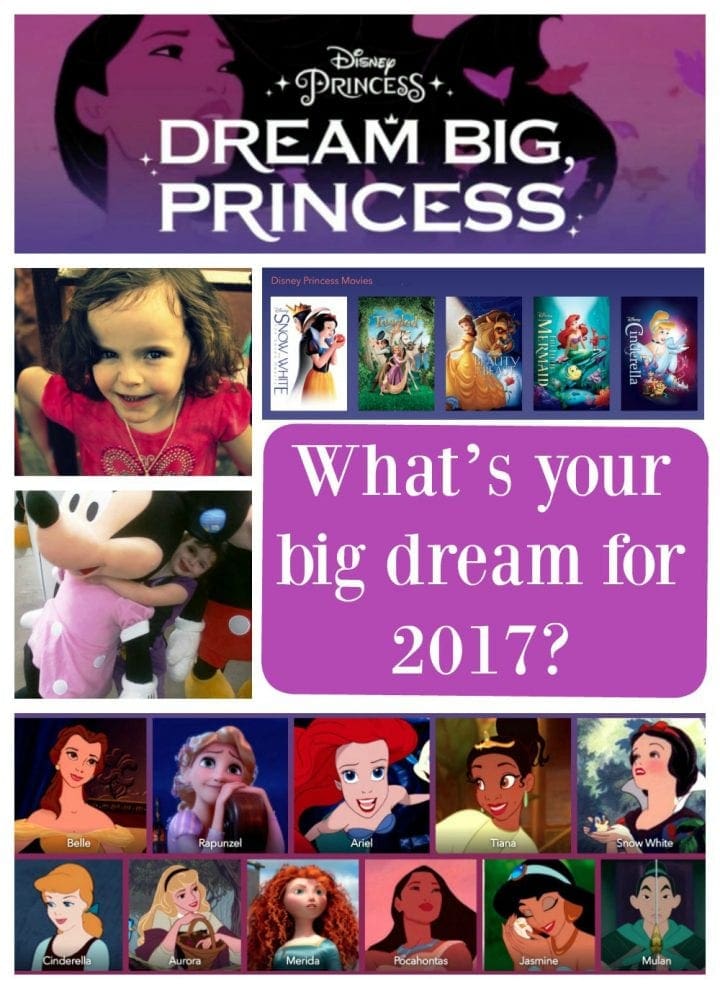 This is a sponsored post with Disney and Cafe Mom Media. 
What's your big dream for 2017?
I am raising two very amazing princesses at the moment. Those two girls love Disney and Disney Princesses more than anyone I know. They love to emulate the spirit of the Disney Princesses as well.
These girls have been princesses since birth. I love to see them grow up into their own personalities yet they still possess the qualities of Disney Princesses.
Annabella the Princess
My oldest child, Annabella is so much like Belle, Snow White and Rapunzel. She is sharp and intelligent. She goes out of her way to help others and to make certain that everyone is ok. Her teachers call her the Mother Hen because she is more concerned with everyone else before herself.
Annabella is kind like Snow White. She started collecting backpacks a few years ago to distribute them to kids at her school that cannot afford to get a book bag for school. She is great about seeing who needs a backpack, getting donations to purchase and then giving them to each kid. Annabella loves empowering kids to feel good about themselves no matter what and having the needed school supplies always helps.
Annabella is also just like Rapunzel because they both share a never ending sense of adventure. Annabella loves to travel and she loves to walk everywhere when we go places so that we can see more of the city. She is always planning her next travel adventure.

Laurel the Princess
Laurel is my youngest Disney Princess. She is very much like Ariel, Cinderella and Merida. Laurel is one of the most unique and inspiring little girls I know.
Much like Ariel, Laurel's curiosity knows no bounds. Laurel is interested in so many things and is always doing research or looking up YouTube videos to figure out how to do what she wants to do. She is curious about new foods, new people and new places.
Like Cinderella, Laurel is full of hope. She dreams big and always waits to see her dreams through. Laurel sees the best in everyone and always sees the positive no matter what. Laurel has the free spirit of Merida because she will just walk around the neighborhood to see where it takes her. She always wants to be to doing her own thing.
As a mother, I support dreaming big, achievement, and the values of the Disney Princess characters. I couldn't think of anyone more suited for my daughters to emulate besides a Disney Princess.
Character Traits of Disney Princesses
Here are all of the traits of Disney Princesses that my daughters love and admire.
Belle's intelligence
Ariel's curiosity
Mulan's bravery
Cinderella's hope
Snow White's kindness
Pocahontas' respect for nature
Rapunzel's sense of adventure
Aurora's voice
Jasmine's independence
Tiana's big dreams
Merida's free spirit

Check out the "Dream It, Be It" Video
See the Dream It, Be It video here
Get social with a Disney Princess
Visit the Disney Princess website to take a Princess quiz, play a game, find crafts and more.
Like Disney Princess on Facebook
See Disney Princesses Instagram
What's your big dream for 2017?