Universal Studios Florida Orlando Review
For anyone who loves movies, Universal Studios Florida Orlando is a must see. Universal Studios Florida Orlando isn't just a working studio where you can step right into the action of your favorite movies and television shows, but also a theme park with movie themed rides and attractions.
A Day at Universal Studios Florida Orlando
One of the most exciting rides in the park is the "Revenge of the Mummy". Based on the popular "Mummy" movies, first you plunge into total darkness, then avoid swarms of hungry scarab beetles while dodging fireballs before finally coming face to face with your nemesis in a thrilling, high-velocity conclusion.
After having escaped the murderous Mummy you might want to go check out the life of a storm chaser at "Twister…Ride It Out". Experience the devastating winds and the ear-pounding roar of an F-5 tornado from the first bits of flying to debris to its awesome fiery conclusion as you live through scenes from the acclaimed movie, "Twister".
After all the excitement you might want to take a break to catch your breath and have a bite to eat at Universal Studio's Monster Café. The Monster Café is a must for fans of the early Universal Horror films. With themed dining areas featuring Dracula's Castle, the swamp and more.
Now, you should be ready for your next adventure, "Disaster". You will start out watching scenes from some of the biggest movies in Hollywood's history and perhaps be asked to participate in a demonstration of how the stunts and effects were done. Finally, you will be asked to board a San Francisco subway car where you will experience a catastrophic earthquake first hand.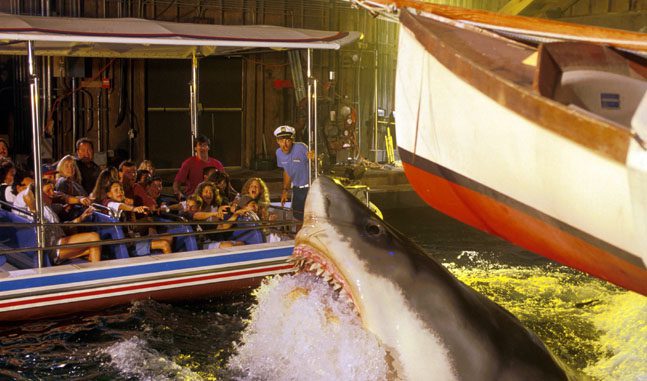 Having survived the earthquake you decide that you might like a nice, quiet boat trip along the friendly shores of Amity, in the next attraction you come to: "Jaws". Based on the blockbuster movie, you know that this ride is going to be anything but relaxing. Soon, you and your fellow passengers are being relentlessly attacked by a 32" shark but with some luck, your brave Captain and some fuel tanks you may survive.
In order to keep your strength up for the adventures to come you may want to stop by Schwab's Pharmacy for a sweet treat at the Soda Fountain. A re-creation of the renowned Schwab Pharmacy where starlets were discovered and the Hollywood Illuminati came to relax you can enjoy delicious Ice Cream Sundaes, Milks Shakes and classic Banana Splits.
Now, you're ready for "MEN IN BLACK Alien Attack". You will become an agent in training. Your mission is to defend New York from the villainous "scum of the universe". A high-tech, interactive ride, take aim and shoot the aliens…but watch out they fire back! With multiple endings, based on your performance, this is never the same ride twice.
It's time for dinner and what better place than Fisherman's Wharf in San Francisco. Located at the recreated Fisherman's Wharf, Lombard's Seafood Grille is the flagship restaurant in the park, renowned for its fine seafood cuisine.
SEE MY OTHER UNIVERSAL STUDIOS REVIEW: Universal Studios Florida Orlando – Family Fun for Everyone
DISCLOSURE: My family was provided tickets to visit Universal Studios.