Stretching Your Family's Holiday Budget with Coinstar

With the holiday season coming up, I know that many of us are looking for ways to stretch your budget a little further, right? I am always trying to get as much out of each dollar as I can.
Here are some things that we do in my family that help to stretch our holiday budget each year.
WAYS TO STRETCH YOUR HOLIDAY BUDGET
1. Do Your Research.
Becoming an informed shopper is the best thing that you can do when it comes to shopping during the holiday season. Learn what you can about what you want to buy.
There are several websites where you can do your research and many apps that you can download on your phone. These things help with making certain that you are paying the best price for whatever you buy.
2. Use Credit Cards to Get Points Back.
While I would never suggest to use credit cards unless you have the money, using credit cards during the holiday season can definitely help you get some cash back and special deals. We use the cards and then pay them right off after the holidays.
3. Shop Based on Value.
We always shop based on value rather than a budget. For instance, a $200 laptop might seem like a great deal. However, if you are playing a lot of video games then that $200 laptop might not be the best option even though it is the cheapest.
4. Shop Online When the Deals are Best.
Cyber Monday is the perfect time to shop. Whenever shopping online, I always search for coupon codes and deals that make my purchases an even better deal. Free Shipping Day is also another day that makes it better to shop online.
5. Skip the Holiday Temptations.
A lot of times during the holiday season, you might find deals that offer a free gift if you spend over a certain amount or even free shipping or a percentage off. Before adding something extra to meet the minimum requirements, check to see if it is something that you need. I cannot tell you how many candles or small things I have purchased over the years to meet a minimum that are now collecting dust somewhere in my house.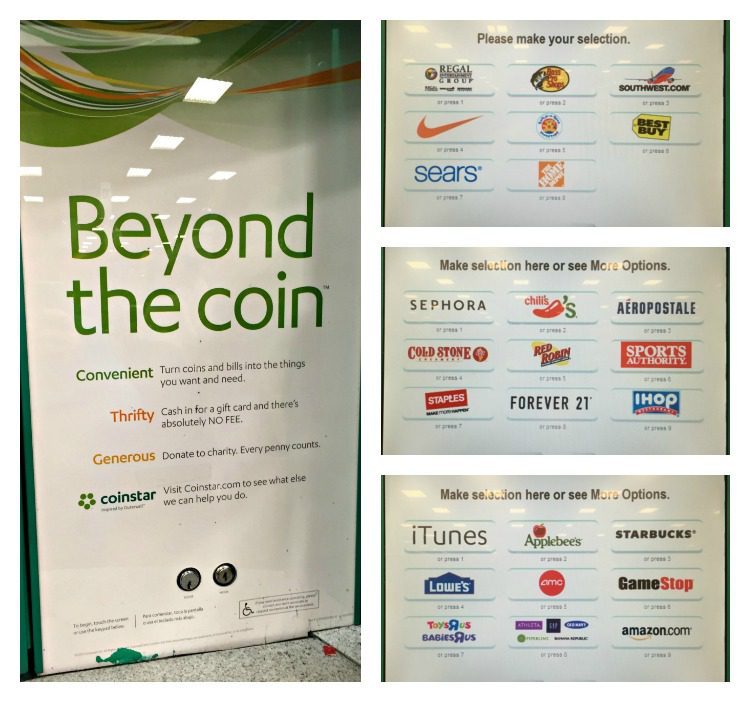 6. Cash out Your Coins.
That change you toss in a jar at home or on your dresses? Coinstar kiosks turn it into cash, NO FEE eCertificates for popular brands, PayPal funds, and charitable donations. You decide!
And those unused gift cards stuffed in your wallet? Did you know that you can instantly exchange them for cash at any Coinstar Exchange kiosk? How great is that? Take those gift cards after the holidays and exchange them for something that you really want.
Using Coinstar is fast, easy, and convenient.
CHECK OUT THE COINSTAR INFOGRAPHIC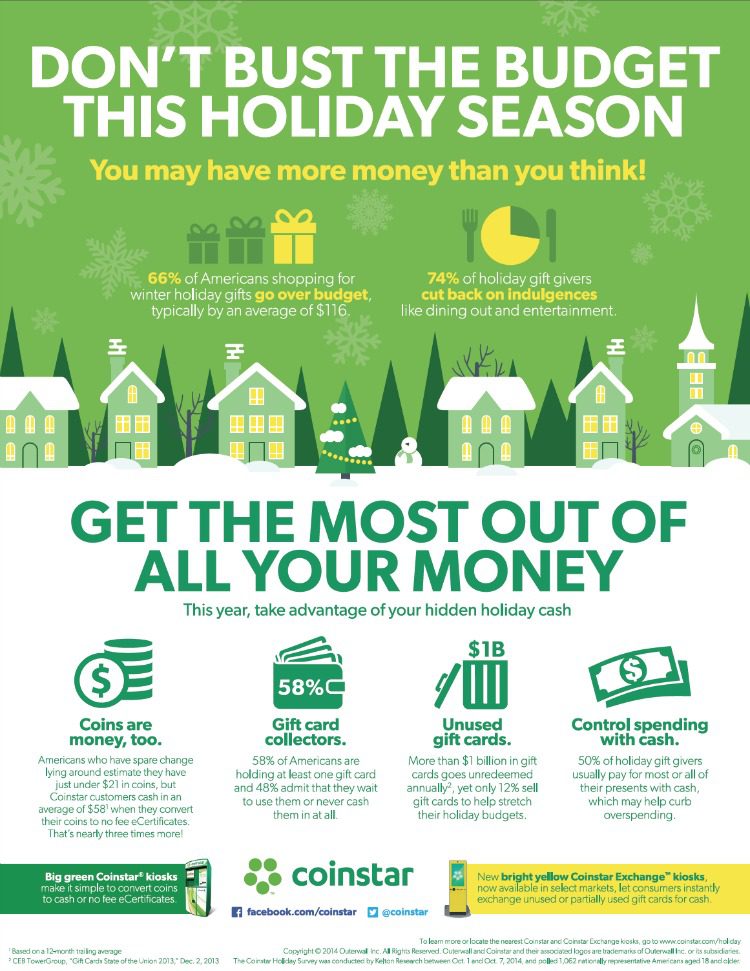 JINGLE ALL THE WAY TO HOLIDAY CASH WITH COINSTAR
Are you ready to see what the #PowerofCoins can do for you? Start saving your change so that you can see how far Coinstar can help you stretch your budget.
FIND A COINSTAR KIOSK NEAR YOU

Want to know where the closest Coinstar kiosk is near you? Click the picture above or right here to take you to the finder.
GET SOCIAL WITH COINSTAR
Tweet with Coinstar on Twitter @coinstar
Like Coinstar on Facebook
HOW DO YOU STRETCH YOUR HOLIDAY BUDGET?