Ipsy Glam Bag Reveal June 2015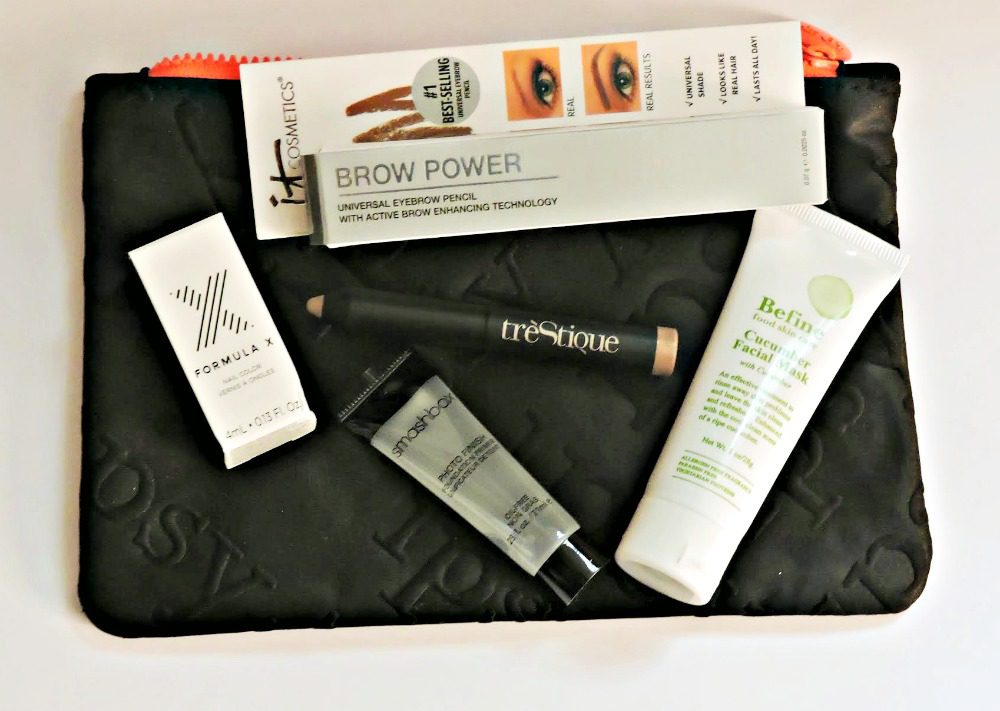 I was absolutely in love with every single product in the bag and I think this may even be my favorite bag we've had yet! The bag itself was just a simple black bag with the words Ipsy embossed into the bag and a coral zipper. It's fairly simple but I love love love it! In fact, it's my new makeup bag for my essentials in my purse. Well let's jump into what it's inside the magical bag this month:

It Cosmetics Brow Power Universal Eyebrow Pencil
This product is ABSOLUTELY phenomenal! The
It Cosmetics Brow Pencil
is universal, meaning it works for anyone's eyebrows. Whether they be thick or thin, light or dark, no matter what it's going to work wonders for you! And I truly love that it comes with a spooly brush on the end to comb through the brows. This is a great product and I'm very excited I received it this month! Full Size Price/Size: $24/.005 Our sample is half the size (.0025) of a full size, making it worth $12.

Smashbox Cosmetics Photo Finish Foundation Primer
When I opened my bag and saw this I was very excited.
Smashbox Cosmetics
is a great high end brand. But that's just it, it's high end and so it is a bit on the pricey side. I've never had the pleasure of trying out this primer, but I've heard amazing things about it and I'm really looking forward to using it. We received a great sample size of the Smashbox Cosmetics Photo Finish Foundation Primer which is another bonus. Full Size Price/Size: $36/ 1 fl oz  Our Sample is .25 fl oz making it worth $9

BeFine Cucumber Facial Mask
I don't know about you guys, but cucumber is one of my FAVORITE scents. It is SO refreshing and I literally buy a lot of my products in that scent, my body wash, my deodorant, and even my wipes that I use to remove my makeup. This
BeFine Cucumber facial mask
is amazing, it makes my skin feel so alive and well, you guessed it…it's cucumber scent. Full Size Price/Size: $14.99/4 oz Our Sample is 1 oz making it worth about $3.75

Formula X Power Source Nail Color
Who doesn't love a good nail polish? I know I do! I have way too much nail polish that I could ever need, however I could always use one more. LOL This
Formula X Power Source Nail Color
shade we received in our bag is AMAZING. It is a beautiful coral pink color and PERFECT for summer. Full Size Price/Size: $10.50/12 mL Our Sample is 4 mL, making it worth $3.50

treStiQue Mini Shadow Crayon
I've had experience with crayon shadows in the past and I think they're a great item. I love to just color it onto the lid and then take a good blending brush to blend it all out and just wear that on my eyes. It's amazing, and I received the
treStiQue Mini Shadow Crayon
in the shade Aspen Pine, which is great for creating an earthy look, which I love. Full Size Price: $26, Our sample is a mini and is worth about $13
Our
Ipsy Bag's Total Value
for the Month is about $41.25, need I remind you….you only pay $10 so it is DEFINITELY worth it!!!