Walmart: 12 Days of Giving
This is a Sponsored post written by me on behalf of Walmart for SocialSpark. All opinions are 100% mine.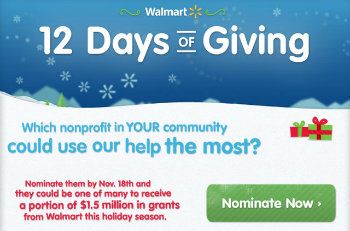 Giving back has always been a very large and important part of my life. I believe that I have a duty to give back. A duty to do something for those less fortunate. This can be either with money or time but no matter what it is, I always find a way to give back.
This holiday season, through the 12 Days of Giving program, Walmart will be giving away or awarding $1.5 million in grants that will go out into local communities across our country. These grants will go to providing some of the most basic need items such as food, coats, diapers, baby formula and other cold-weather clothing like coats to the needy.
While this campaign is running, US residents have the opportunity to share which organizations should be supported and which deserve to be awarded some of the grants totalling $1.5 million.
I nominated a local nonprofit here in Atlanta, the Atlanta Community Food Bank. Throughout the years, I have been involved with them in many ways and since 1979, the ACFB has been feeding the hungry here in Atlanta.
From now until November 18th, you can vote for your favorite local nonprofit on Facebook. Then beginning on December 10th, Walmart will begin the "12 Days of Giving" by announcing the nonprofit recipients who will be awarded funding. Now is the time to nominate and then vote!
Nominate a local nonprofit between November 1 and November 18 then leave me a comment sharing the nonprofit you nominated. Tell me who is important in your community and who you would like to give back to.
The nomination process is fairly easy and straightforward. Here is what you will need to nominate a local nonprofit:
Nonprofit name
Nonprofit contact info
Nonprofit website
Photo (optional) – although this is optional, please know that a photo will indeed grab more attention.
So what are you waiting for? Go out and nominate and then vote! Your nonprofit is waiting.