Groupon Has JUST What Mom Wants for Mother's Day
This post brought to you by Groupon. The content and opinions expressed below are that of Divine Lifestyle.
I am a Groupon addict. I absolutely love shopping and I always find some amazing deals through Groupon. In fact, if you check out the Groupon's Mother's Day Gift Shop you can find some really great gifts for mom.
Groupon is having fun this year with their Mother's Day Campaign by offering some great items and fun prizes! Not only can you get mom a gift but there are also some really great experiences. I have been wanting to book a Groupon travel deal for a while and I might just buy one for my mom so we can take a trip together.
In fact, Groupon can take care of gifts for everyone including sisters, grandmothers and more. Or you can just get one for yourself to enjoy. There are so many choices so I have narrowed it down to a few things that I would love to give and receive:
A massage – what busy mom wouldn't love to receive a massage? Groupon has a vast selection of massage treatments in cities everywhere.

Flowers – flowers are one of my favorite things to receive any time of year but especially on Mother's Day. Get a great deal on flowers and gifts from FTD.com right now!
Photoshoot – Now you and mom can get glammed up and take some fabulous photos together.
Finally, a night of painting. Take mom and some friends to create a masterpiece.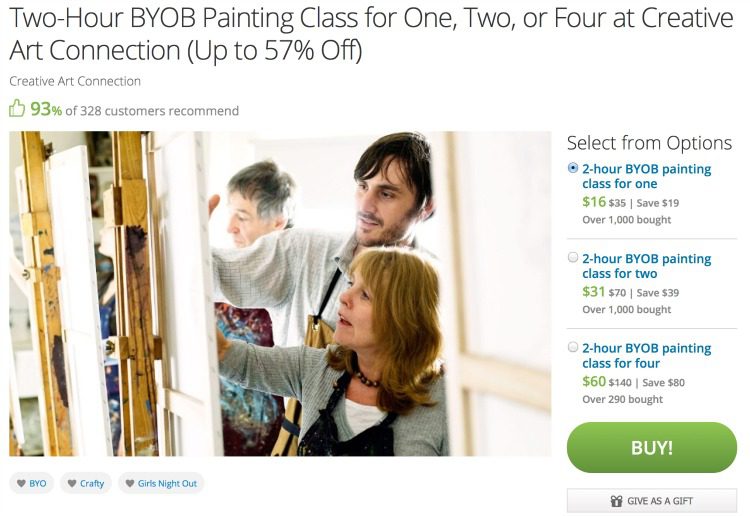 No matter what you are buying for your mom this year, you can definitely find it on Groupon. Their vast selection and easy to pay process makes shopping at Groupon a breeze.
WIN BIG WITH GROUPON
Mother's Day $0 Deal for Groupon's Apple Watches Giveaway
Mother's Day $0 Deal for 1 Year's Worth of Spa Days on Groupon