5 Ways to Reclaim Your Time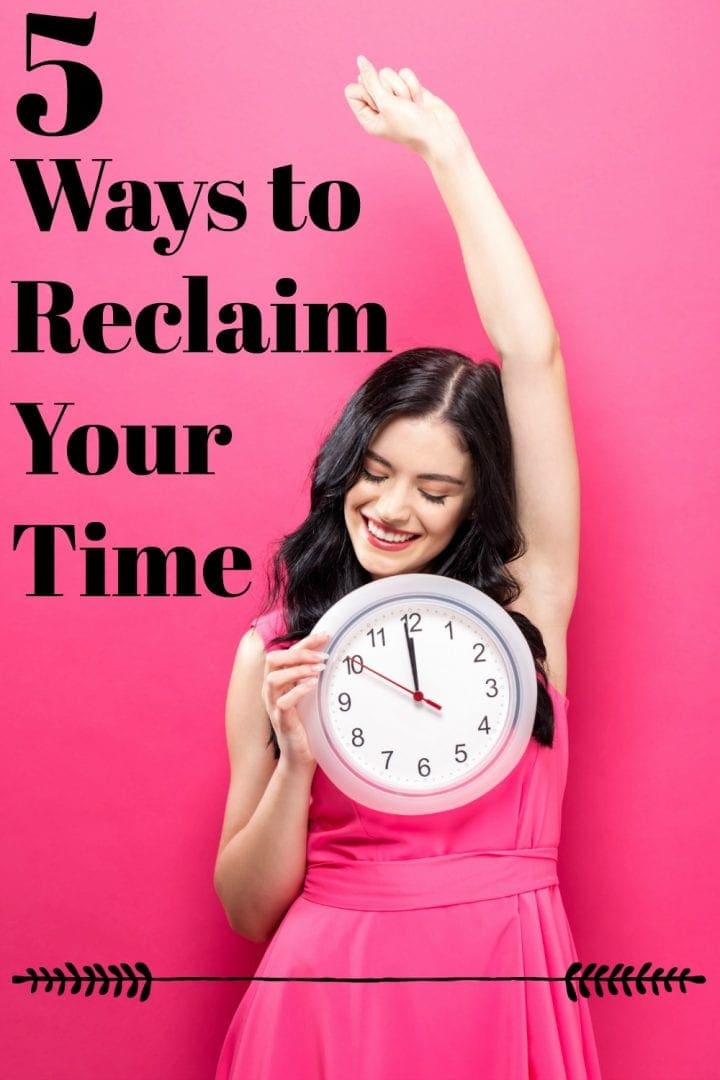 This 5 Ways to Reclaim Your Time post is a sponsored post for SheSpeaks/Prudential.
5 Ways to Reclaim Your Time
Did you know that on average, women in the U.S. spend 28 hours per week on household chores? This is 65% more than the average for men.1 In our previous post:  we discussed some of the statistics that as women we need to be aware of, regarding our finances. One of the things I learned is that women tend to live 5-6 years longer than men2 and since I may be single later in life, I figure that I better do what I can to manage my time now; to focus on the most important things. We hope that you enjoy these 5 Ways to Reclaim Your Time.
Our time is valuable and our time is important. Say that to yourself. My time is valuable and my time is important. The key to properly managing your time is to decide what is the most important to you and then figure out how to do that. Our 5 Ways to Reclaim Your Time post aims to take some of the smaller things off of your plate so that you can spend time on the things that matter most: spending time with your family, hobbies and more.
5 Ways to Reclaim Your Time
1. Hire help.
I learned years ago that one of the most valuable things I could do was to place a dollar amount on my time. This meant when it came to hiring help like a housekeeper or someone run errands that as long as I was being paid more than what I was hiring out, then I was coming out ahead. It was amazing that hiring a housekeeper freed up so many hours each week that I was able to earn more money which was great and totally the point.
2. Schedule it all.
I was absolutely blown away by this tip years ago. Sometime told me to write everything down on my schedule including time for myself. I schedule 30 minutes a day to read, whether it's a book or magazine or newsletters. I take this time for myself every single day and I feel better for it. I schedule my gym time as well as all of my work items.
3. Build in down time.
Give yourself the luxury of having nothing on your schedule and nothing to do at least a few times per week. I absolutely love looking at my schedule and realizing that I have nothing to do for a few hours. Honestly, it's a reprieve and sometimes I will just head out into the neighborhood to talk a walk or out to the deck to sit on the hammock.
4. Say no.
I know that this year we are all about saying yes (thank you Shonda Rimes) but I think that it is important to learn that saying no is ok as well. It took me years to figure that out because I think that my mindset was, "say yes in case they don't ask again" when instead it should have been saying no is ok because I don't have the time. Reclaiming my time by saying no to the majority of things that come my way means that I can work on the things that I am passionate about.
5. Get professional help.
Ha. Not that kind, although I am a huge advocate of mental health (I love my therapist), I am talking about the kind of professional help that can change your life and get your finances in order. Getting help from a financial professional can save you time by helping you work through the financial tasks and decisions for your family and stay organized. This year I have partnered with Prudential to help educate you (and me) about those challenges that we face as women. I want to be prepared and protected so that I can make the right decisions for my family. Just starting the conversation is a big deal. Talking about things like life insurance and saving for college is not always easy to do, but we can make it a much better conversation. Talk to friends and relatives about your personal finances and about the journey to owning your own future. I am meeting with Lola Gena Pappas, a Prudential Financial Professional, and I am planning to take you along on my financial journey so stay tuned! Then click here to get in touch with a Prudential Financial Professional today.
Get social and knowledgeable with Prudential
Prudential has created a tool called the "Value of all you do" that lets you very quickly quantify the value of all the household chores you do on a daily basis. We hope that you enjoyed these 5 Ways to Reclaim Your Time.
Prudential Website  |  Twitter  |  Facebook  |  Instagram  |  YouTube
This 5 Ways to Reclaim Your Time post is a sponsored post for SheSpeaks/Prudential.
Sources:
Prudential Retirement analysis; National Center for Health Statistics, Health, United States, 2015: With Special Feature on Racial and Ethnic Health Disparities. Hyattsville, MD. 2016.