5 Reasons Why Women Need FemiLift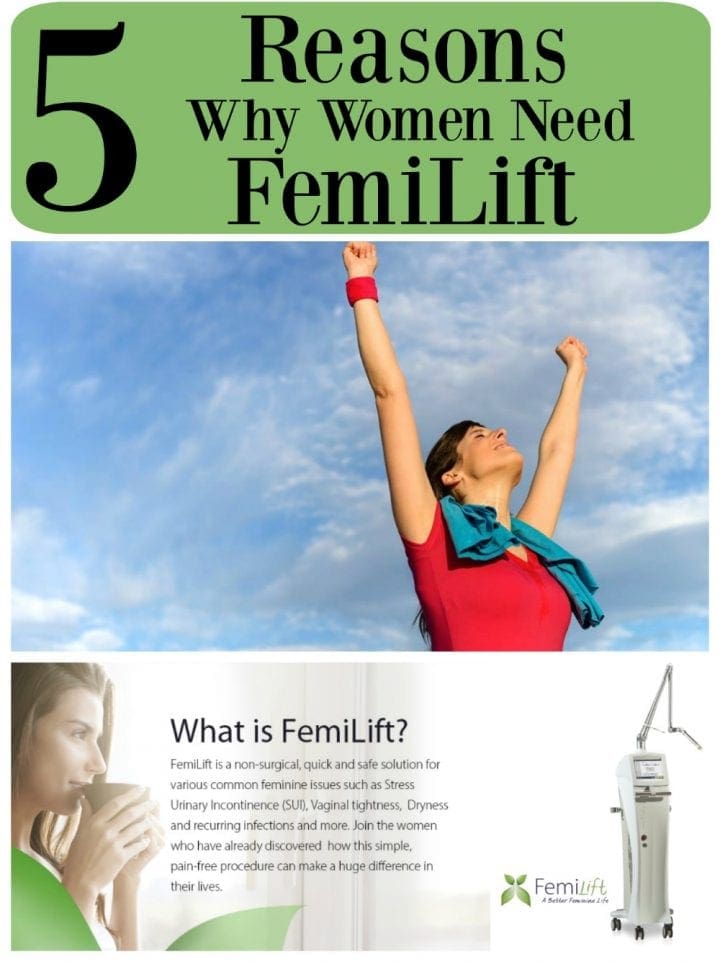 This 5 Reasons Why Women Need FemiLift post is a sponsored post. However, all thoughts and opinions are my own.
5 Reasons Why Women Need FemiLift
Did you know that one of out of 3 women over the age of 45 will have a feminine health concern within their lifetime?
I have to admit when I first heard of FemiLift and indeed all laser vaginal treatments, the first thing I said to myself is, "Not me. I don't need that." Isn't that the normal reaction? Why would I need something like this? Well I should have read a lot more because if I had, I would have had this procedure done years ago. Seriously. We hope that you enjoy these 5 Reasons Why Women Need FemiLift.
What is FemiLift?
FemiLift is a minimally invasive, outpatient procedure performed in a doctor's office in an outpatient setting, without surgery, anesthesia or downtime that provides optimal results for a variety of feminine health concerns. Each procedure takes less than 15 minutes and three treatments are recommended at 4-6 week intervals.
The FemiLift procedure uses breakthrough fractional CO2 laser technology to improve the function of the vaginal area by gently heating the vaginal tissue and stimulating the formation of new collagen. The procedure is performed by gently inserting a probe into the vagina with a 360-degree rotation capability allowing for selective targeted treatment areas for specific feminine health conditions.
Women who have had the FemiLift procedure report a near-immediate return to activity, including sexual intercourse, with thousands of patients around the world reporting an improved quality of life and deeply enhanced self-esteem.

Meet Dr. Myla Bennett
Dr. Myla Bennett founded the Ederra Bella Practice in Johns Creek, Georgia and performs FemiLift for her patients plus she has had all three treatments herself so she is very knowledgeable. After receiving her Doctor of Medicine degree from Ohio State, Dr. Myla also completed her plastic and reconstructive surgery as well as her general surgery residencies at the university.
Dr. Myla is board certified by the American Board of Plastic Surgery, one of the 24 boards the make up the American Board of Medical Specialties.  A fellowship recipient and a celebrated surgeon, Dr. Myla is an excellent option for any skin care, surgical, or aesthetic needs you may have.

FemiLift Treatment & Results
The idea of getting FemiLift was a little intimidating at first because I truly did not know what to expect even though I had done my research. Dr. Myla came into the room and we chatted for over 20 minutes about FemiLift. I learned that she has had the procedure done (all three treatments) and she absolutely is thrilled with her results. She said that after her three treatments her bladder leakage after having children is gone, her orgasms during sex are so much better than before (her favorite reason for FemiLift) and she has no issues with natural lubrication.
I put on the gown and she came right back in to start the treatment which was great because I hate nothing more than waiting around a doctors office in a paper gown. The entire procedure took less than 15 minutes and she talked to me the entire time about how the laser works. She even explained a lot about the various lasers on the market right now. I was surprised when we were finished because the time flew by and there was no pain at all. No discomfort either.
One treatment in and so far everything is good. I noticed results after just a few days. While I still have to go back for two more treatments, I am thrilled that my results are exactly what Dr. Myla told me to expect. No more bladder leakage; I was even able to go to to a trampoline exercise class.  After speaking with Dr. Myla and getting my first treatment, I immediately wanted all of my friends to make an appointment.
Find a FemiLift Provider Near You
Ready to get the procedure for yourself? Find a FemiLift provider near you.
Get social with Alma Lasers & FemiLift
Visit the FemiLift website to learn more.
Like FemiLift on Facebook
Like Alma Lasers on Facebook
Tweet with Alma Lasers on Twitter
See Alma Lasers on YouTube
This 5 Reasons Why Women Need FemiLift post is a sponsored post. However, all thoughts and opinions are my own.