The Miramonte Indian Wells Resort & Spa is a desert oasis in the Coachella Valley region in the south-central part of California. The scenic location lies at the foot of the Santa Rosa Mountains among 11 acres of citrus trees, olive trees, herb, rose and vegetable gardens. The Miramonte resort is the ideal place whether wanting a relaxing getaway or looking to escape the winter blues. We hope that you enjoy this Miramonte Indian Wells Resort & Spa in Palm Springs California post.

Accommodations
Guest rooms
The rooms have up to 450 square feet of space and come with a choice of one king or two queen sized beds. The rooms on the first floor come with private furnished balconies or patios. Rooms located on the second floor offer private Juliette-styled balconies. The accommodations look out onto the citrus groves, the rose garden and the desert beyond.
Junior suites
The suites provide 550 square feet of floor space and feature one king or two queen beds. Each suite has a separate living room space and a private balcony. The rooms offer views overlooking the citrus garden, the rose garden or other areas of the resort.
Villa suites
The larger suites have 725 square feet of space and feature one king-sized bed. The living room area has a sofa bed. Guests also have the opportunity to enjoy meals in their room thanks to the dining table that seats four. The expansive bathroom boasts a private whirlpool tub. Each suite has a private entrance terrace complete with garden adjacent to the facility pool.
Room furnishings also include a work desk and ergonomic chair, a separate chair and footrest, a flat-screen TV situated on an entertainment center cabinet, table and floor lamps. The bathrooms have spacious showers and classic cabinetry along with complimentary beauty products. Suites include a sofa and coffee table.

Amenities
The Miramonte Indian Wells Resort & Spa in Palm Springs has a fully-equipped business center with audio/visual equipment and meeting rooms. For the convenience of families, the facility offers children's furnishings. Dining options include a children's menu. Staff members readily offer to entertain youngsters when parents decide to have some time to themselves.
Palm Springs guests also have access to an ATM, baggage storage, laundry and valet services, a convenience store, a gift shop, a safety deposit box and concierge service.

Dining
The facility's Citrus & Palm serves breakfast and lunch daily. Dinner guests enjoy meals Tuesday through Saturday. However, dinner is not served on Sunday or Monday. The restaurant is managed by Chef Paul Hancock. Meals are prepared using locally harvest ingredients to provide a healthy dining experience. The dining room accommodates one to 20 guests at each table.
The Tavern is the facility's other dining option. The eatery has an extensive menu of upscale snacks and entrees that include a charcuterie and cheese board, roasted or stir-fried vegetables, nachos or sliders prepared with wagyu beef, fried calamari, grilled shrimp and lobster quesadillas. The Tavern also offers various tropical cocktails, craft beers, bottled and tap beers.

Activities & Spa
Miramonte Indian Wells Resort & Spa has three pools, which all offer poolside beverage and food service. The Miramonte Pool has first and second level deck seating along with a heated whirlpool. Guests also enjoy a private cabana. The secluded Hideaway Pool features sun decks and a heated pool.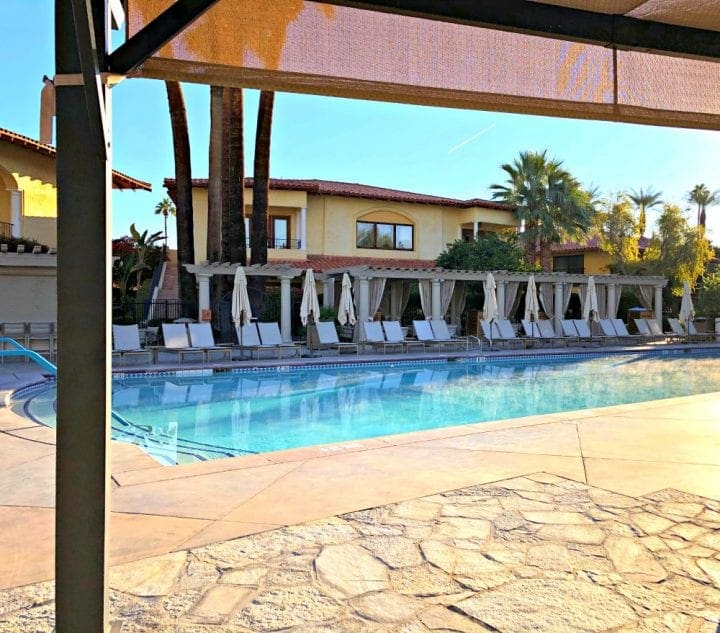 The Aqua Well Pool stands nestled in the private Well Spa courtyard and offers the ultimate in privacy. The water remains at a constant 82 degrees Fahrenheit. Here, guests also have the option of relaxing in the therapeutic River Bench that features a pool with soothing 102-degree water, nooks and waterfalls.
Guests have the option of reserving a private poolside cabana complete with a tray of seasonal fruit, a charcuterie plate and complimentary pitcher of margaritas or sangria.

The Well Spa offers a variety of treatments that include:
• A 50-minute customized massage
• A 50-minute facial
• Manicures
• Eucalyptus steam room
• Serenity room
Guests have access to the spa. However, anyone may opt to purchase a three-month spa membership to enjoy spa benefits and privileges.
Tour the area by renting a bike from the resort. The 24-hour fitness center provides the chance for guests to maintain their regular workout routine in addition to offering yoga classes and group walks.
Families and friends might also opt to enjoy the scenic facility grounds while playing bocce ball, cornhole, giant Jenga, ladder ball or other lawn games.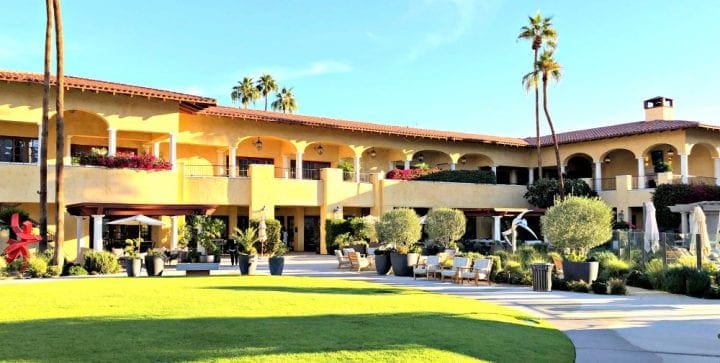 Nearby tennis courts provide the chance for guests and non-members to enjoy matches or take lessons to improve their skills. Junior programs are designed for younger guests aged 4 through 18. The lessons focus on improving a player's agility, balance and coordination. Tennis remains popular in the area. Each March, the Indian Wells Tennis Garden hosts the World's Largest ATP World Tour and the WTA Combined Professional Tennis Tournament.
Guests are also welcome to play a few rounds at the nearby Indian Wells Golf Resort. A shuttle service provides transportation to and from the location. Guests need to merely show an attendant their room key and charges are automatically added to your resort bill.

Nearby attractions to Miramonte
Nearby attractions include:
Wet 'n' Wild Waterpark
Hot air ballooning
Palm Springs aerial tramway
Living Desert Zoo and Gardens
Jeep tours
Rock climbing
BMW Performance Driving Center
Palm Springs Art Museum
Joshua Tree National Park
Tahquitz Canyon