White Cloud Laundry Detergent: Dare to Compare #DaretoCompare #ad
This is a Sponsored post written by me on behalf of White Cloud for SocialSpark. All opinions are 100% mine.
There is a LOT of stain fighting going on in this house. I mean a lot! With three busy, active kids I often find stains that I cannot even figure out what they are.
You may know White Cloud for their Bath Tissue, Facial Tissue and Paper Towels. Now White Cloud has a new line of Laundry Care products that can save your clothes aloung with saving you money.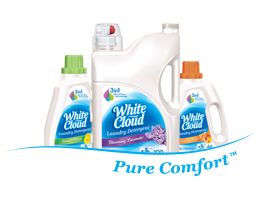 ABOUT WHITE CLOUD
Now you can siscover the White Cloud stain fighting difference with their 3-in-1 Micro Clean Technology. This technology is composed of an enzyme-based formula that gets out even the toughest stains with their 3-in-1 Micro Clean Technology that contains a pre-treater, stain remover, and color booster all in one. Plus White Cloud Laundry Detergent is the best defense we have at removing the toughest grass stains. White Cloud dares you to compare the stain removing capabilities of White Cloud versus your usual detergent. 
Did you know that in less than six months of launching White Cloud's new Laundry Detergent, a leading consumer magazine has already named White Cloud Laundry Detergent as #1 in value and #6 in cleaning? This is great!
You can find White Cloud Laundry Detergent in:
-Both liquid and powder form
-100 and 150-ounce sizes in liquid
-156-ounce box in powder
-Blooming Lavender (#1 Seller), Summer Breeze, and Tropical Fiesta.
White Cloud Laundry Detergent and their family of products is a premium brand of household products available at your local Walmart.
We had dirt stains all over my son's white shirt and I was able to get them out with just one wash with White Cloud. Now his shirt looks so good that you cannot even tell he was playing in the dirt. 

FIND A STORE NEAR YOU THAT SELLS WHITE CLOUD
It is easier than ever to find White Cloud near you with this handy Store Locator.
GRAB YOUR WHITE CLOUD COUPON
White Cloud believes so much in their detergent that they are giving you a high value coupon so you can try it for yourself.
You can now get a $2 coupon to try White Cloud Laundry Detergent by heading over to Facebook to print it out!
Disclaimer: Limit one coupon per purchase on product specified. No cash back if coupon value is higher than purchase price. Void if reproduced, transferred, used to purchase products for resale or where prohibited/regulated by law. Not valid on trial sizes. Consumer pays sales tax. Redeemable at participating retail stores. Valid only in the U.S.
GET SOCIAL WITH WHITE CLOUD
Follow White Cloud on Pinterest
Dare to Compare! Try the product for yourself TODAY with their high value coupon offer!