Welcoming Front Door Accents
Welcoming Front Door Accents
1'6″x2'6″ Pineapple Doormat, Black – $27.00
Made of 100% heavy-duty rubber with thick scrollwork that creates a look of wrought iron, this arched doormat makes an elegant addition to any porch or patio area. The rubber is extremely durable, resists fading, mold and mildew, and won't crack or buckle. Hoses clean.
Marine Medium Outdoor Wall Light, Zinc – $629.00
This versatile outdoor fixture is crafted of zinc with a caged frame and seeded glass shade. A weathered finish completes the look. Hardwired.Lighting adds texture and atmosphere to any space; it's the visual punctuation that defines a room. Crafted from authentic, time-honored materials and topped with beautifully coordinated shades, Visual Comfort's illuminating designs masterfully combine sculpture, mechanics, touch and sight.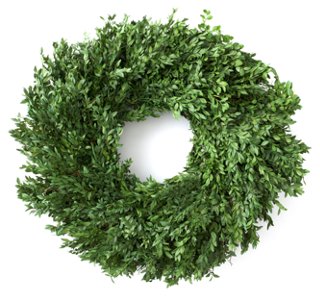 Boxwood Wreath, Preserved – $99.00
The radiant green hue seen in this preserved boxwood wreath makes it virtually indistinguishable from the living plant itself. Because this wreath is made by hand, size may vary slightly.Knud Nielsen Sr. based his eponymous company in Evergreen, AL, because the area was known for its abundant supply of magnolia, holly, palms, mistletoe, huckleberry, oak, ferns, Spanish moss, and other flora. More than 100 years later, the Knud Nielsen Co. is the world's largest company devoted exclusively to dried flowers and other materials. As this creation makes clear, it's one of the most artistically distinctive as well.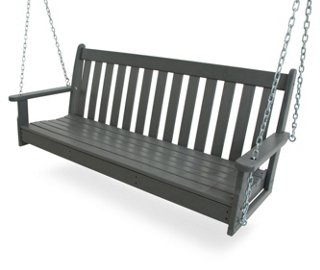 Vineyard Porch Swing, Gray – $459.00
Inviting, comfortable, and made to withstand the elements, this porch swing gives your outdoor space a whole new life. Get cozy and enjoy it day or night, rain or shine.Poly-Wood, Inc. designs and manufactures environmentally friendly furniture in timeless styles. Built with recycled, all-weather plastic, these chairs, tables, benches and more are designed to last–rain or shine. And because they are made with a high percentage of post-consumer materials, every piece helps the environment.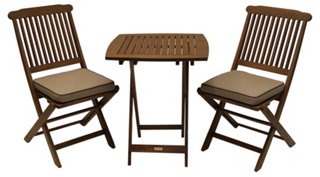 Langley 3-Pc Bistro Set, Beige – $255.00
Enjoy your morning cup of coffee outside or a romantic alfresco dinner for two with this handsome bistro set. Made of eucalyptus hardwood with beige cushioned seats, the set has a classic, comfortable look and will last for many summers to come.Suitable for outdoor use. We recommend storing cushions in the winter, or when not in use.
Hydrangeas & Lamb's Ear Faux Wreath – $249.00
Offering all the beauty of fresh blooms without the upkeep, this wonderfully lifelike wreath features blossoming hydrangeas in shades of blue and white, lamb's ear leaf spray, blade grass, and pussy willow.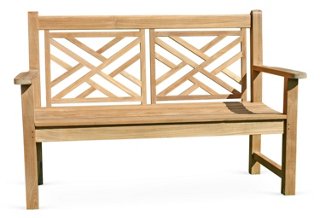 Teak Chippendale 48″ Bench – $799.00
Inspired by classic Chippendale designs but with modern touches, this solid teak bench is a gorgeous addition to an outdoor or indoor space.Teak is as strong as it is beautiful, as well as impervious to the elements. That's why it's been used for shipbuilding for centuries. And that's also why every Regal Teak product is carefully crafted of solid, thick premium plantation teak.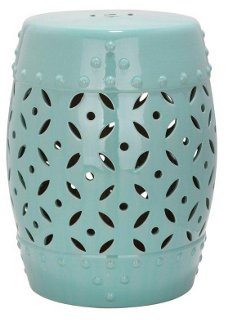 Aurora Ceramic Garden Stool, Teal – $149.00
Finished in a lovely aqua glaze, this pretty stool will be a lovely accent in any garden or family room. It's perfect as a perch for a vase, an object, or an unexpected guest.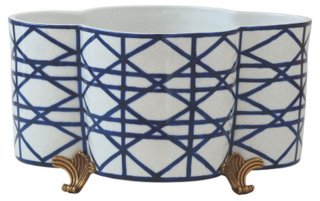 14″ Gazebo Planter, Blue – $365.00
Sized to hold four small plants, this planter is crafted of porcelain with a quatrefoil body, solid brass feet, and bold blue-and-white finish.Co-founded by an award-winning designer, Port 68 is dedicated to bringing the best in global design–from "ports around the world"–to your home. Its products are meticulously crafted using Old World techniques, including hand-finishing and lost-wax casting.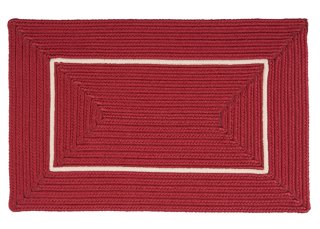 Accent Doormat, Red/White – $89.00
This welcoming doormat is hand-braided of durable, easy-to-clean polypropylene in a bold red hue with a contrasting pop of white. Made in the USA.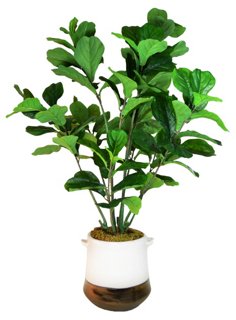 54″ Fiddle-Leaf Tree in Planter, Faux – $419.00
Set in a two-tone metallic-dipped earthenware planter, this lifelike, lush fiddle-leaf tree will instantly liven up any room.